~Sanyukta Bhattacharya
Satyagraha without constructive work is like a sentence without a verb ; the weight of the words of the prominent man himself are an indication of the sharp conscience that he possessed. Popularly referred to as Man of The Soil , the freedom struggle of Ram Manohar Lohia began right from the age of just ten when he participated in the Satyagraha march , and with this his commitment and passion towards his country's freedom only grew exponentially with age.Influenced by his father Hira Lal Lohia-who was a freedom fighter himself , Ram Manohar Lohia put in his every ounce of blood and sweat for his nation and its citizens. He was a prominent figure at regional level for mobilising masses towards freedom struggle. He
vehemently protested against enrolling Indians in British Royal Army for World War-II and this landed him in jail. When we talk about his active participations in Indian Movements , it would be intriguing to note that it was Ram Manohar Lohia who carried out his strategic underground work for Quit India Movement , when most of the leaders were jailed under British scrutiny.
Some of his innovative ideas included using Underground Radio Stations to disseminate much needed information among masses. He also lead movement of urging Indians to boycott all government institutions. Ram Manohar Lohia's excellent intellect and command over his studies and work enabled him to publish the most controversial article titled-'Satyagraha Now' in Gandhi newspaper-Harijan. The subtle truth expressed in his writing enraged the British government and he again was put behind bars. He effectively mobilised masses through the use of his
pamphlets.
Ram Manohar Lohia was a firm follower of socialism and this figure not only helped the nation get free from the clutches of the Britishers but also fought tremendously to liberate the nation from the shackles of brutal social injustice.He criticised the then existing caste system and clearly explained that it is a hinderance to opportunity and ability which in turn is a hinderance to development and progress of the society and nation as a whole.He was a committed socialist and worked on Gandhian principles to combat injustice through development and stood firm to eliminate caste barriers.His clashes with fellow leaders of Congress made him quit the party and form an alternative party to the supporter of capitalists and rich landlords i.e the Congress.All his contribution has led to a renowned hospital being made after his name.Ram Manohar Lohia is an extra ordinary figure who hasn't got the right amount of-much deserved-due credit.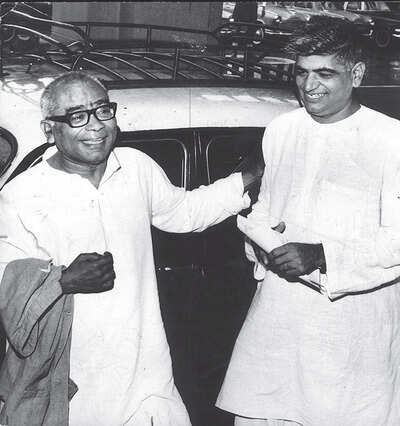 Ram Manohar Lohia has left behind him a legacy which continues to inspire many leaders and even the millenials,his modern,progressive and unbiased opinions led to Congress working on its toes to get back its lost image not only this his very first steps led to the practice of true democracy in India due to his strong presence in opposition.We have thus seen his remarkable efforts and journey right from his freedom struggle to struggling for the rights and reservations of marginalised-underpriviliged people.

This Independence day let us commemorate this institutional figure and pledge to continue his legacy and carry on with his noble work which has led to the creation of celebrated and cherished Bharat of today.